Imo governorship election: Live Results from Local Government Collation centres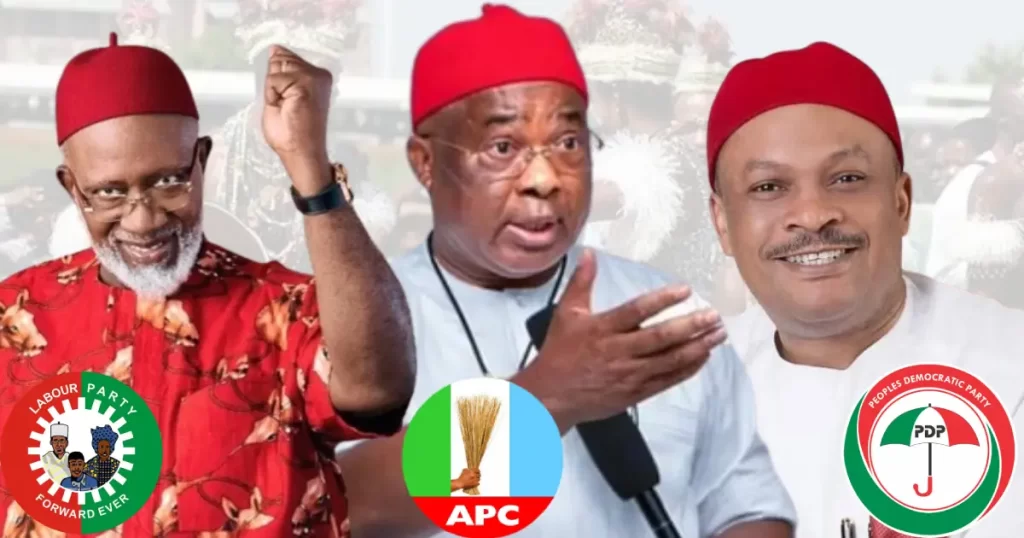 Results from the ongoing governorship election in Imo State have now reached the collation centers at the local government level. The election concluded at 2 pm in some Polling Units and extended until 4:30 pm at others on Saturday. The announcement of results began at the Polling Units by officials of the Independent National Electoral Commission (INEC).
INEC had scheduled the off-circle governorship elections in Bayelsa, Imo, and Kogi States for Saturday, November 11, 2023. The election in Imo State was reported to be largely peaceful.
Here are some collated results at the Local Government levels:
IHITTE/UBOMA LGA:
APC: 11,099
PDP: 3,077
LP: 2,766
APGA: 61
IDEATO NORTH LGA:
APC: 5,271
PDP: 2,062
LP: 1,522
APGA: 85
OHAJI/EGBEMA LGA:
APC: 14,962
PDP: 3,694
LP: 1,506
APGA: 147
OGUTA LGA:
APC: 57,310
LP: 1,941
PDP: 2,653
OBOWO LGA:
APC: 17,514
LP: 3,404
PDP: 712
Ehime Mbano LGA:
APC: 6,632
LP: 4,958
PDP: 681
Ikeduru LGA:
APC: 22,356
LP: 1,377
PDP: 7,258
Isiala Mbano LGA, Imo state:
APC: 10,860
LP: 2,419
PDP: 1,659
Ezinihitte Mbaise LGA:
APC: 8,473
LP: 3,332
PDP: 2,737
Oguta LGA:
APC: 57,310
LP: 1,941
PDP: 2,653
Isu LGA, Imo state:
APC: 11,312
LP: 1,253
PDP: 2,508
Oru East LGA:
APC: 67,315
LP: 3,443
PDP: 2,202
Ngor Okpala LGA, Imo state:
APC: 14,143
LP: 2,716
PDP: 3,451
Ideato south LGA, Imo state:
APC: 16,891
LP: 1,649
PDP: 2,469
Onuimo LGA, Imo state:
APC: 13,134
LP: 1,753
PDP: 2,676
Okigwe LGA, Imo state:
APC: 55,585
LP: 2,655
PDP: 1,688
Orsu LGA, Imo State:
APC: 18,003
LP: 813
PDP: 624
Owerri Municipal, Imo State:
APC: 5,324
LP: 2,914
PDP: 2,180
Obowo LGA, Imo state:
APC: 17,514
LP: 3,404
PDP: 711
Owerri North LGA:
APC: 8,536
LP: 4,386
PDP: 3,449
Njaba LGA, Imo state:
APC: 811
LP: 995
PDP: 2,404
Oru West LGA:
APC: 38,726
APGA: 275
LP: 1,867
PDP: 987
Troops kill 52 terrorists, arrest ISWAP leader in Bauchi – DHQ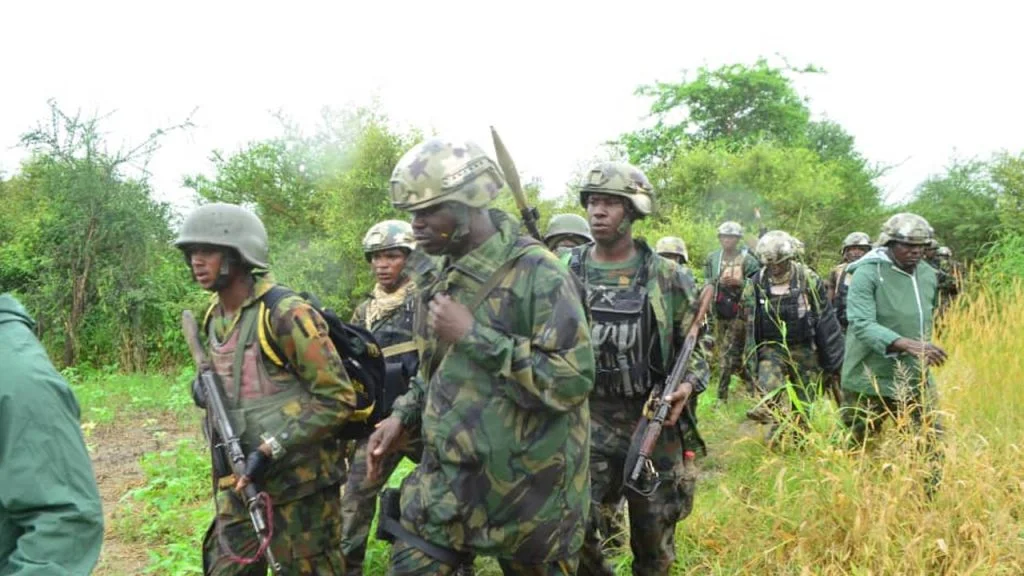 The Defence Headquarters (DHQ) has reported that a joint operation involving Nigerian military troops and Department of State Services (DSS) operatives resulted in the elimination of 52 terrorists and the apprehension of a leader of the Islamic State West Africa Province (ISWAP) in Bauchi State.
The ISWAP leader was captured in a sting operation at Tarum, a village outside Bauchi Metropolis, as disclosed by Maj.-Gen. Edward Buba, the Director of Defence Media Operations, in a statement on Friday.
While the DHQ did not disclose the name of the arrested ISWAP leader, it revealed that the individual held a significant role in the North Central and North West zones.
The military high command emphasized that targeting terrorist leadership is crucial in ensuring the safety and security of citizens, with ongoing operations consistently diminishing the fighting force and capacity of these groups.
Maj.-Gen. Buba noted that Nigerian Air Force airstrikes played a key role in destroying terrorist leaders' enclaves in the North West and North Central zones in the past week.
The week's operations resulted in the neutralization of 52 terrorists, the arrest of 204 individuals associated with terrorism, and the rescue of 234 kidnapped hostages. Additionally, in the South-South zone, troops recovered stolen crude oil and illegal refined products, destroyed various equipment and sites used for illegal activities, and seized a substantial amount of weapons, ammunition, vehicles, and other items associated with criminal operations.
'Stop making police officers' wives widows' – Arase decries killing of cops in South East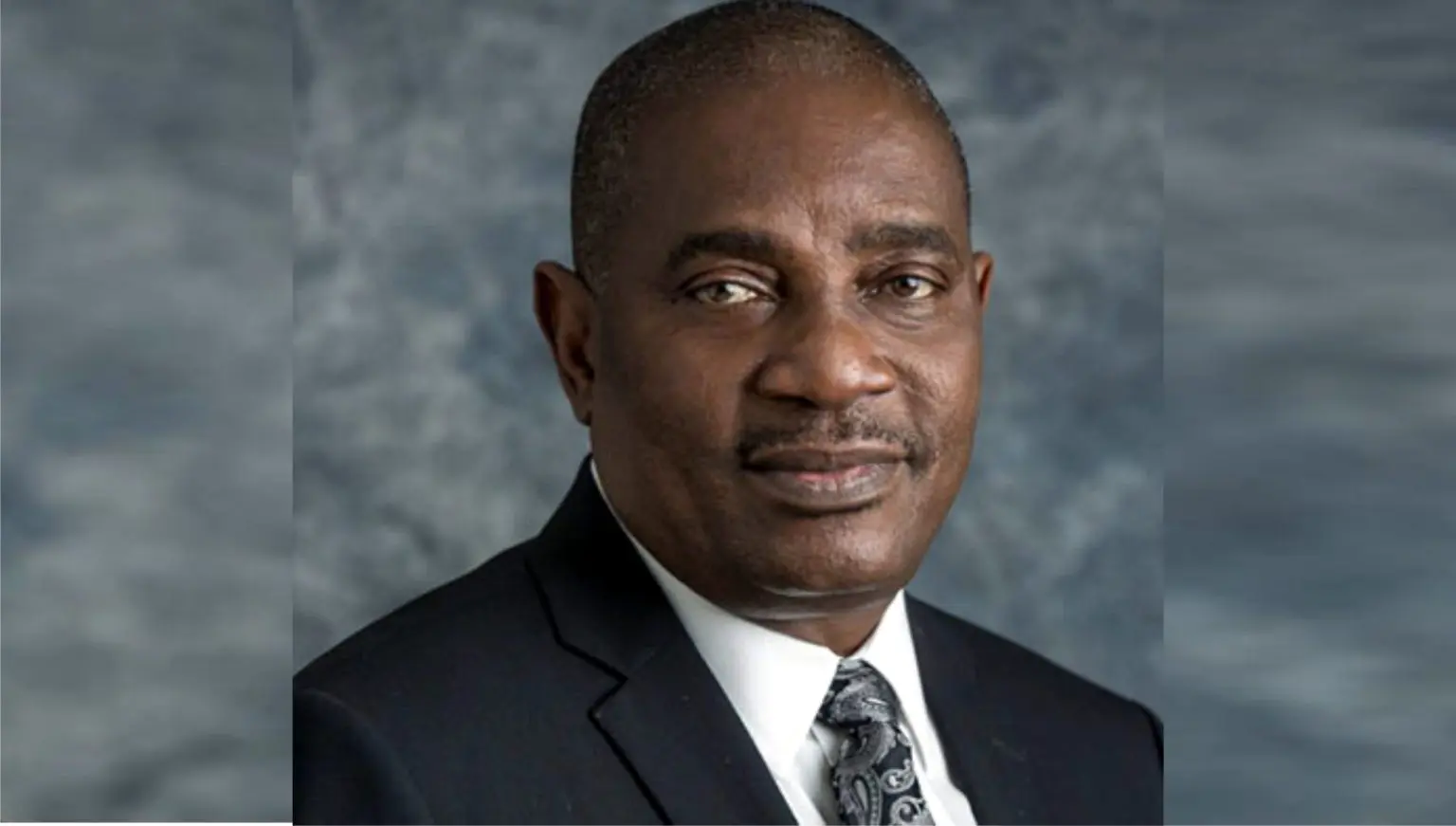 Solomon Arase, the Chairman of the Police Service Commission, has expressed distress regarding the escalating violence against security personnel, particularly police officers, in the South East region.
The former Inspector General of Police highlighted the growing number of police officers' wives becoming widows due to attacks by gunmen in the area. In a statement by Ikechukwu Ani, Head of Press and Public Relations, Arase conveyed his apprehension during a courtesy visit by leaders of Ohanaeze Ndigbo, Federal Capital Territory (FCT) chapter, in Abuja.
Arase emphasized that it's essential to communicate to the assailants that the police are not their adversaries and have committed no wrongdoing. He lamented the loss of numerous serving officers in the South East, urging the perpetrators to recognize the police as friends and cease making widows out of officers' wives, who are essentially their sisters.
Furthermore, Arase assured that the Commission has addressed the perceived marginalization of the South East in police representation nationwide.
Elder Onwu Arua, the leader of the Ohanaeze delegation, expressed concern about the lack of interest among people in the South East regarding the ongoing police recruitment exercise. He urged the Police Service Commission to devise strategies to address this issue.
IPOB alleges pressure on Gov Mba to blackmail Supreme Court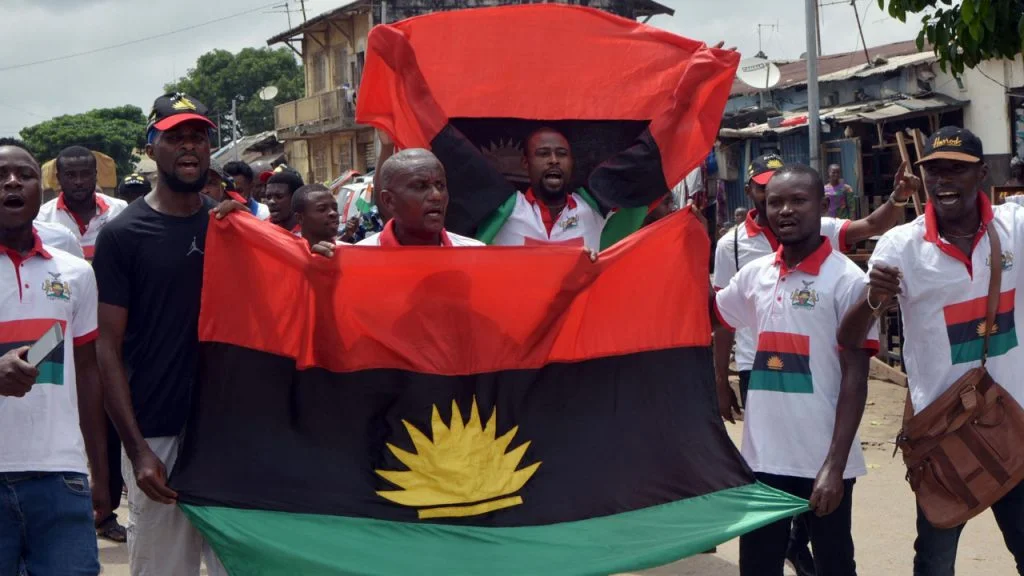 On Friday, the Indigenous People of Biafra (IPOB) alleged that Governor Peter Mba was facing pressure from "Aso Rock" to discredit the Supreme Court ahead of the judgment on its leader, Nnamdi Kanu, scheduled for December 15. IPOB based this claim on Mba's characterization of the group as a proscribed organization, a statement he made after visiting President Bola Tinubu at the Presidential Villa in Abuja.
IPOB cautioned the governor against making a "costly mistake" by using the group's name to gain favor from Tinubu's administration. In a statement by Powerful, a spokesperson for IPOB, it was emphasized that Mba's comments were deemed reckless and unguarded. The statement alleged that Mba, under pressure from the federal government, accused IPOB of being responsible for the sit-at-home protest and insecurity in the Southeast.
The statement pointed out that Mba had previously condemned Simon Ekpa, who was associated with the enforcement of the Monday sit-at-home. IPOB expressed skepticism about the governor's motives and suggested that his statements were influenced by the Tinubu administration.
IPOB urged the public to dismiss the governor's remarks, describing him as a "cowardly governor" making unfounded accusations. The statement reminded Mba that IPOB is not easily intimidated and warned against attempting to use the group's name for political advantage.
The statement concluded by calling on the Nigerian Supreme Court Justices not to succumb to blackmail, urging the release of Nnamdi Kanu, who was acquitted by the Court of Appeal. IPOB reiterated its commitment to the cause of self-determination and emphasized that the movement would not yield to blackmail or pressure.