By Joseph ODOEKWU
The Chairman of Umuakali-elu Youth Association Mr. Prince Onyeneke has declared that the new executive shall ensure that there is peaceful co-existence among members of the community in the next two years of his administration as this is will enable harmony and facilitate development.
Mr. Onyeneke made the declaration while addressing members of the community and well-wishers during the formal inauguration and swearing-in of the newly elected executive which took place on Saturday June 3, 2023 at the Ukwu-Obu in Ihebom's Compound in Umuakali-elu Naze.
Highlighting on the achievement of his first tenure and promising to strengthen further relationships, Mr Onyeneke maintained that it will be difficult to achieve anything in the next two years if there is no harmony and peace among the youths and elders as well as other people living in the community.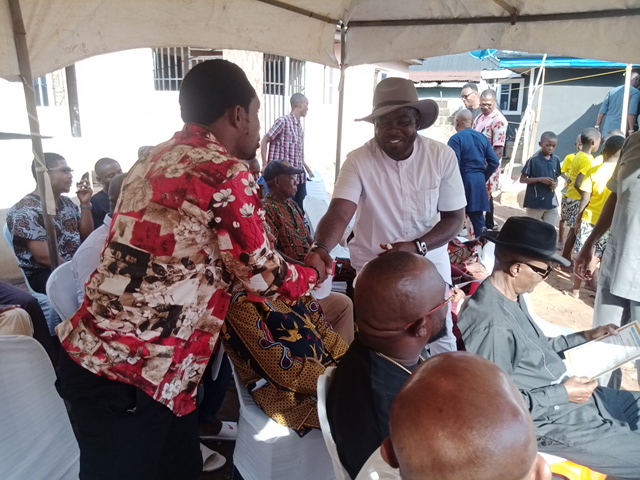 "I will continue to ensure that there is peace and harmony in the community" he started. "While those conducting their businesses in and around our community, especially the timber market will further enjoy a rancor free relationship without any form of intimidation" he promised.
On the issue of combating crime in the commuity, Mr. Onyeneke who was sworn-in as chairman of Umuakali-elu youth for a second-term of two-years in office insisted that youth empowerment shall be strongly looked into as this will help minimize crime in the community.
He further added that his administration shall frown darkly at youths who embark on hard drugs and other criminal activities, and warned that the disciplinary committees of the executive shall be fully empowered to recommend sanctions where anyone is found wanting.
On the swamp which is pejoratively described as "Lake Oleforo" at the entrance of Umuakali-elu, he stated that adequate consultation has been made in the past two years with His Grace Archbishop Lucius Iwejuru Ugorji, the Imo State Government and our brothers in Diaspora, saying that there is hope for a lasting solution in our community soon.
While dissolving membership of all other standing committees in the youth executive during his address, he however exempted the works committee to continue with their job, insisting that environmental factors which need continuous attention must be given adequate attention at all times.
He maintained that raising funds to support families in times of burial, wedding, payment of hospital bills amongst others shall continue and assured all that financial transparency and accountability shall be sustained while the Youth account shall be reactivated.
Mr. Onyeneke did not fail to extend a hand of fellowship to Mr. Chukwuma Amadi (Sir Kpuru) who contested against him for the position of chairman in the last election and assured him that the doors are open for team work as he remains a brother whom he will always work with at any time.
He called on all to support the executive as they work towards achieving their set goals in the next two years while praying the Almighty God to strengthen them as they give a direction.